Category —
mac
This was posted to Apple's web-site this evening, as it was announced that Steve has lost his battle with pancreatic cancer. Steve will be missed, and his legacy will live on. Rest in peace Steve.
2 years with a delis are coming to a close, and though I have had a great time with it, it is getting close to time to upgrade, and yes, I am glad I did not buy a Verizon iPhone when they first arrived, for the A5 processor as well as that the 4S is a world phone! Now I just have to justify the expense. 🙂
On Valentines day in the ipod section of the Fifth Avenue Apple store in New York City, Josh Li and Ya Ting exchanged vows in front of an officiant dressed as steve jobs. The couple's vows were read off of an ipod, and as far as I can tell they didn't get kicked out for doing this. Although you can see some apple store employees in the background, It looks like they were enjoying the occasion along with everyone else in the store.

This tutorial shows you how to use encrypted disk images in MacOS X to transfer files securely, and to store files on your mac in a secure manner. This tip entirely uses just built-in components of a regular MacOS X install, no need to get any additional software.
Today is the 25th anniversary of the Macintosh computer, so in honor of this historic day (ok, historic to me), So I decided to put together this list of the many different Macintosh computers that I have owned over the years.
First off, is the Macintosh SE, which was introduced in March of 1987, and originally had two floppy drives, one megabyte of RAM, and a 9 inch Black and white monitor. The model that we had was the upgraded version with an SuperDrive (FDHD) floppy drive, an internal 20 megabyte hard drive, and one megabyte of RAM. We later upgraded the RAM to 4 Megabytes, and added an external SyQuest cartridge based external hard drive, as well as eventually an external CD-ROM drive and Zip Drive.
Click here for the full specs from Lowendmac.com
Next came the Performa 5200/75 TV. Which might be a little hard to find out there, but yeah, we had one. The most interesting thing about this particular computer was that it had a built in NTSC tuner, so the entire computer became a television when needed. It also could function as a CD Player, considering that it actually contained a built in CD-ROM drive as well. This computer originally released in April of 1995, this was a long overdue upgrade for us considering how long we had stuck it out with the SE. Click here for the full specs
Around about the same time came my first Powerbook, which was also my first computer that was completely my own. Unfortunately this computer happened to be the Powerbook 190cs, much slower than the 5200 that we had at home. This computer I continued to use for the first two years of college as well. This model was introduced in August of 1995. Kind of amazing to think that I was actually using this computer actively up until the summer of 1999, when I got my next computer. Click here for the full specs 
During the summer after my freshman year of college (1999), I finally saved up enough money to buy a "real" computer, and bought the PowerMac G3 Blue and White, otherwise known as "Yosemite" the original specs of this machine, it had a 350Mhz G3 processor, 64Mb of RAM, and a 6 gig hard drive. This machine was such a good machine however, that It still is running as my home backup server, though it has been upgraded quite a bit. Currently this machine has a 550Mhz G4 processor, 1.25Gb of RAM, and several hard drives totaling over 250Gigs of hard drive space. Still an excellent machine, and still running almost ten years later. Click here for full specs from www.lowendmac.com
This machine was Alina's first Mac During College, and in fact is still running at her mothers house and used daily for email and web surfing. Based upon the original iMac, this is the iMac DV SE (Digital video, Special edition) which came with a built in DVD Drive, as well as a unique graphite case. First introduced in July of 2000. Click here for full specs.
This next machine was the Powerbook 3400c, which when it was introduced in Febuary of 1997 was the fastest laptop in the world. While we were living in Vermont, I bought two of these, one for my parents and one for myself second hand from someone who specializes in refurbished older Mac laptops. I used it for a couple of years, as this was something to use to replace my venerable 190cs that had continued as my primary laptop for many years past its useful life. This machine is currently sitting in a closet waiting to get resurrected, as the PRAM battery is dead, the screen refuses to stay in one color mode, and for some reason it is stuck with the caps-lock in the on position. Click here for full specs.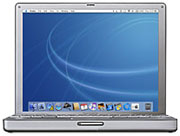 During our final year in Vermont (2003), we finally decided to buy a new computer for Alina, (though I get to use it on occasion. 😀 This being our first major purchase together. The Powerbook G4 12inch was and still is Apple's smallest full featured laptop produced, it weighs under 5 pounds and yet has a 1ghz processor 1.25gigs of RAM, and a DVD burner. An excellent computer, this laptop is still going strong, despite several nocks and scrapes. The G4 12inch was introduced in August of 2003. Click here for full specs from www.lowendmac.com 
I'm not really sure if this counts as a Mac of mine, however my parents had an iBook G3 for several years, which was mostly destroyed in a house fire in 2003, I rescued the iBook, replaced the melted keyboard, and continued to use it for an additional 3 years, burn marks and all. Unfortunately this computer was one of many that suffered from the infamous iBook motherboard failure problems, and died finally due to those problems, and not damage suffered by the fire. Click here for full specs. 
And Finally we arrive at my current Mac. I am currently the proud owner of a 2007 MacBook Pro 15inch, 2.2Ghz, 2gigs of RAM and 160gig internal hard drive, with a Dual Layer DVD+-R Drive. This was the first laptop by Apple to incorporate LED technology into the display, which is much brighter and clearer than previous laptop models. Although the new unibody MacBooks are interesting, I am quite happy with this computer for the time being. Click here for full specs from www.lowendmac.com. 
So after my many years of owning macs, I am hoping there will be many more to come in the future.